VIP Safari Excursion to Playa Rincon
Our VIP Adventure Safari truck will take you accross the lush hills of Samana peninsula with some incredible panoramic views to our final destination : spectacular Playa Ricon beach.
Playa Rincon is considered one of the ten most beautiful beaches in the Caribbean due to its natural conditions. This beautiful divine creation has more than three kilometers of white sand.
During our Safari truck ride accross the countryside of Samana which is a lot of fun and comfortable we will take about one hour of travel from one end to the other, we will stop to visit a typical dominican house, a plantation of natural cocoa and coffee, where you will enjoy this product in its natural state. We will also we pass by a typical small dominican church and school.
We then arrive to the amazing Playa Rincon beach for a delicious lunch.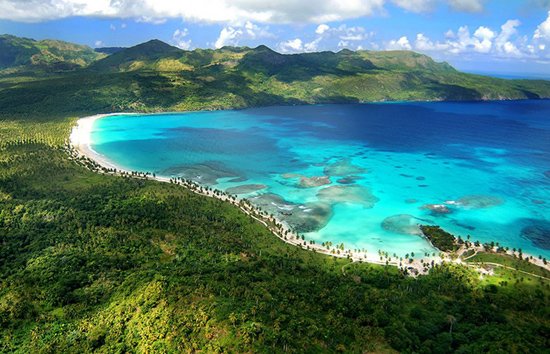 After lunch we will have free time to relax on the beach, swim, just sunbathe or explore these incredible natural surroundings of Playa Rincon.
We will finish off by a fesh cool bath in the natural water of the river "Cano Frio".
All-inclusive
• Round-trip transportation from your Hotel
• Soft Drink, Rum, Coca-Cola, Sprite and Natural Water
• Professional Tour Guiding and all service aboard
• Lunch at Playa Rincon and relaxing time on the beach!
• Full Day Trip : From 9:00 AM to 4:30 PM
Excursion available only on : SUNDAYS
We pick you up at any hotel in Samana, Las Galeras and Las Terrenas.
Adult : $67 USD
Children below 10 years old : Half price
What to bring
Comfortable clothing, bathing suit, suntan lotion, camera, pocket money, and a willingness to enjoy the beauty that awaits you!